Newsletter
The veterinarians and staff at Palmyra Animal Hospital are pleased to provide you with an online newsletter. This fun and fact-filled newsletter is updated on a regular basis.
Included in the newsletter are articles pertaining to pet care, information on our animal hospital, as well as news on the latest trends and discoveries in veterinary medicine.
Please enjoy the newsletter!
Current Newsletter Topics
Allergy Testing in Pets
The goal of allergy testing is to identify the specific allergen(s) to which your pet has an allergy. Allergy testing is done either with a blood test (sometimes also called 'ELISA' or 'RAST testing') or with intradermal testing (sometimes also called 'skin testing'). Following the identification of the allergen(s), your pet usually begins a series of injections of a dilute solution of the allergens, with the idea of desensitizing his or her immune system to future allergen exposure. This is called immunotherapy. The exact schedule of injections is tailored to each individual case, but often begins as a once a week injection. The injections are usually carried out over the course of several months to years, and most patients require the injections for life.
Skin problems (particularly itching) and ear problems are two of the most common reasons why veterinarians see pets. Unlike humans who react to allergens with nasal symptoms, dogs react with skin conditions. These problems may range from poor coat texture or length, to itching and chewing, to hot spots and eventually self-mutilation. Allergies may also play a part in chronic ear infections. To make matters more difficult to diagnose and treat, thyroid disease may add to the problem as well.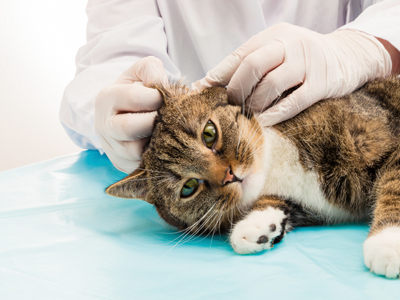 Many times, severe skin itching and inflammation is caused by allergies to fleas, foods or environmental substances. If we can determine exactly what your pet is allergic to, it will allow us to provide more effective treatment. For pollen and dust allergies, it allows for the possibility of treatment with allergy shots (also called immunotherapy or hypo sensitization), which help to decrease the immune system's exaggerated response to these substances. Knowing exactly what the allergies are may also allow you to avoid things to which your pet is very sensitive to, such as fleas.
There are basically two types of allergy tests performed by veterinarians. The goal of allergy testing is to identify specific substances that are causing the allergic reaction, so that avoidance (if possible) and/or desensitization through allergy shots may be attempted.
As mentioned previously, allergy testing is done either by blood testing or by intradermal skin testing. The intradermal test involves clipping the fur from the side of the animal's chest and injecting very small amounts of pollen from trees and grasses, molds and insect extracts, into the superficial layers of the skin. Often, the test is administered under a light sedative/analgesic so that the pet feels no discomfort. If the animal is allergic, a hive-shaped mound forms at the site of one or more injections. This type of testing is more traditional, more involved and more expensive than blood testing, but has very few false positive reactions.
For the blood test, a small amount of blood is taken and sent to a special laboratory. Generally, the test results come back in about three weeks. This type of testing is newer and less expensive however, interpretation is more difficult. Although serum allergy testing can give meaningful results, intradermal skin testing is considered to be more accurate and is the preferred method of allergy testing.
If you have questions regarding your pet's skin problem or potential allergies, do not hesitate to call your veterinarian for more information.